Welcome to the Catch-22 Ranch
The season starts each September!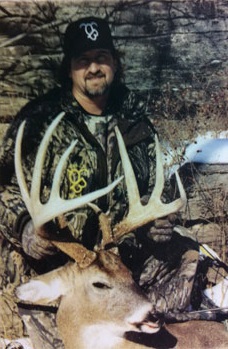 The Catch-22 Ranch is one of Oklahoma's premier hunting ranches, located in the rolling hills of Northeastern Oklahoma. The land is natural habitat for trophy whitetail with many hardwood hollows, winding creek bottoms and open pecan orchard fields.

Former major league catcher Charlie O'Brien opened The Ranch on his family-owned property after retiring from baseball in 2000. He will be your host and guide on your trip over the 1,200 acre ranch, and top-notch service and quality are among his highest priorities.

Whether you're looking for whitetail hunts or deer hunts specifically, or just want to try out some incredible Oklahoma hunting, there is no doubt that you will have an amazing hunting experience at the Catch22 Ranch.
The History
Passion for the Outdoors and Hunting
Charlie O'Brien was a major league catcher with a passion for the outdoors and hunting monster whitetail bucks. Since retiring from professional baseball in 2000, he has devoted himself to producing trophy whitetail deer on his family owned and operated ranch in Northeastern Oklahoma.

Charlie and the "Catch-22 Ranch" have been featured in many highly-rated television shows produced by "Moss Oak", including Pursuit Channel's "Deer Thugs".

The Catch-22 Ranch spreads over 1,200-acres and had been high-fenced for 15-years. Every single deer on the grounds is original to the ranch.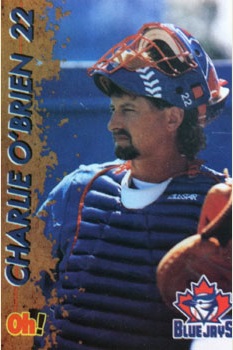 The Experience
Safe, Professional, Family Environment

The Catch-22 Ranch is located in the rolling hills of Northeastern Oklahoma. The land is natural habitat for trophy whitetail with many hardwood hollows, winding creek bottoms and open pecan orchards fields. Charlie believes in providing a safe, professional hunt in a family environment. "The Original Charlie" (Charlie's Dad). is the chief cook and trail-boss. Charlie is your host and lead guide. No more than 4-hunters are on the ranch at any onetime and each hunter is paired up with a guide.

Our guests stay in our comfortable ranch house located on the property for quick and easy access to all the hunting areas. Not only does such a personal touch create a more enjoyable and memorable hunt, it better guarantees a successful hunt. No hunter has ever left the Catch-22 Ranch without having harvested a deer.

The season starts in early September and runs through December. Most hunting is done from tree-stands or still hunting. When needed or requested, enclosed blinds with heating are available.



"I have hunted all of North America and the Catch-22 Ranch is a hunter's dream. The quality of deer has to be seen to be believed. I have harvested 8-Boone & Crockett bucks in the 8 years I have hunted the Catch-22. The largest trophy I have taken in my life was a 242-inch, non-typical monster that I harvested on the Catch-22."

Ryan Robichaux from Houma, LA
The Gallery
Some great moments for our guests
Fees
4 days, 3 nights, no hidden fees.
There are no hidden fees at the Catch-22 Ranch. There are no "Trophy Fees". There are no "Kill Fees".

All hunts include 4-days and 3-nights of lodging, meals, guides, field dressing and caping. Shuttle service from and to Tulsa International Airport is also included and we will help you with arrangements for meat processing and taxidermy.

A $1,000 deposit is required at the time of booking and the remainder is due upon arrival. If you are unable to make your scheduled hunt, your deposit will be transferred to the following year, or the same year if space is available.

All hunters must be properly licensed and those costs are not included.
$4,000
Cy Young

Scoring
130-149 SCI
$6,000
All Star

Scoring
150-169 SCI
$8,000
MVP

Scoring
170-189 SCI
$11,000
Grand Slam

Scoring
190-220 SCI
$13,000
Hall of Fame

Scoring
221+ SCI
Contact Us
Catch-22 Ranch